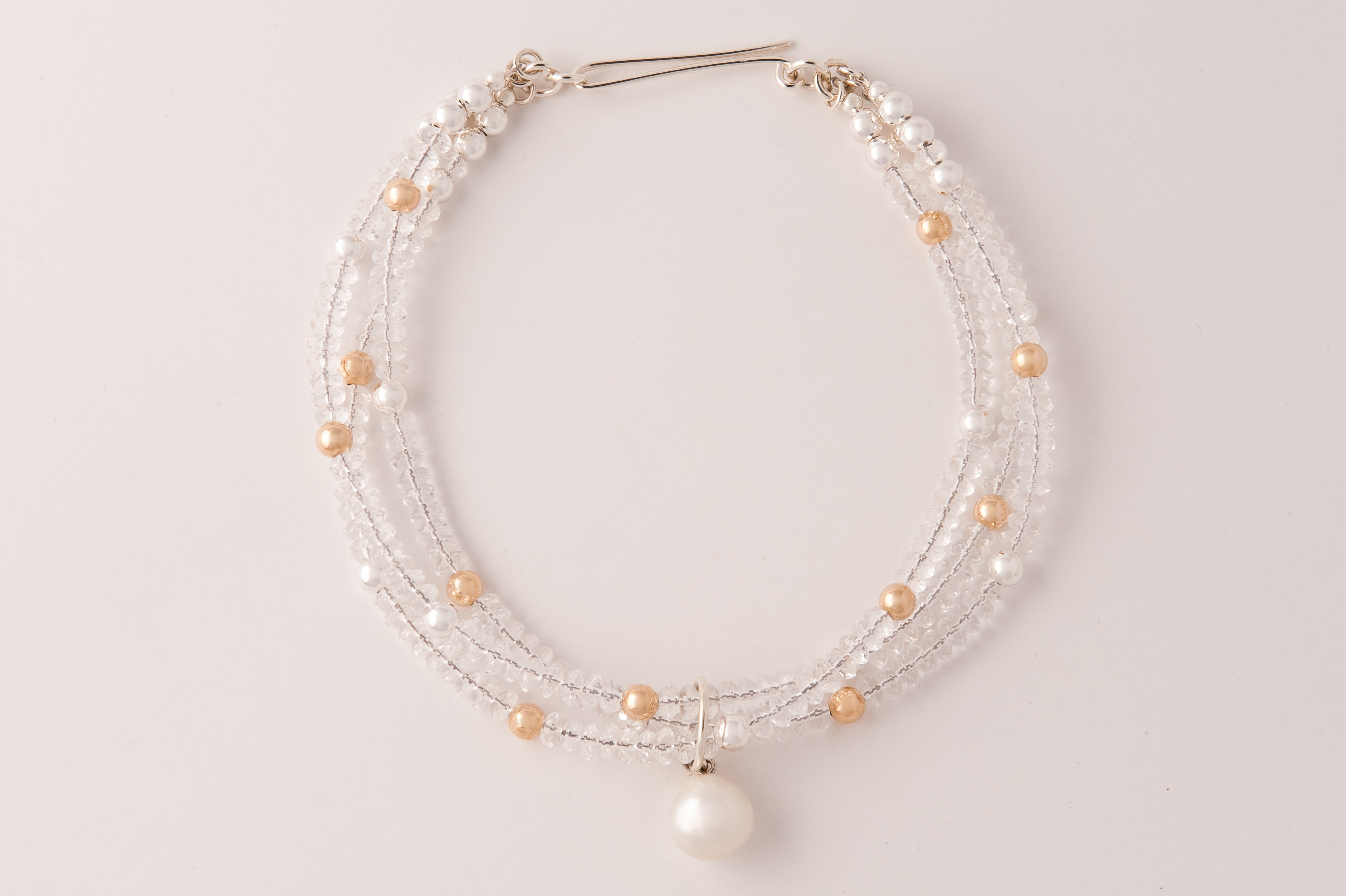 Gem - clear quartz, YG & pearl
3 strand clear quartz, solid 9ct yellow gold & solid sterling silver necklace with pearl pendant, both South Sea pearl or freshwater available. Handmade to order.

Gem - clear quartz, YG & pearl
Shipping
Our pieces are all handmade, mostly to order. We aim to have all orders made and dispatched within one to five weeks, however some pieces may take up to ten weeks.
Please allow approximately four months for made to order diamond pieces.

Please specify when a parcel is to be delivered by a specific date and we will endeavour to have it there at that time.
We deliver orders via Australia Post (Registered Express Post) that incurs a fee of $15.00 per delivery.
Overseas delivery incurs a fee of $50 and the purchaser will be responsible for any applicable taxes or duties.
About us
LUONE is an Australian handcrafted jewellery label imbuing elegance and timeless design.
Lucinda Newton, owner / designer & silversmith, founded LUONE (LU for Lucinda / ONE from Lucinda's maiden name O'Neil) in 2007. Lucinda's dream & vision was to create jewellery women love to wear and for the jewellery (when worn) to become the interest of others. Uninterested in trends or the industry norms Lucinda's commitment to quality, uncompromising spirit and concentration on unique but wearable design and detail would prove crucial to the following LUONE has collected over the years.
Lucinda's love for simple but beautiful jewellery is reflected in her collections designed for women who also love, wear and appreciate jewellery with the bespoke element. 

Signature details and a beautiful array of hand-selected pearls and gems combined with the classic precious metals sterling silver, yellow gold and rose gold form the uniquely distinctive and eye-catching LUONE style. Everyday staples through to one-off desirable statement pieces, LUONE is perfect for stacking and layering, playing with gorgeous colours, shapes & textures. 

All pieces are handcrafted in Australia with Lucinda still designing every piece and making most pieces in Port Fairy. Lucinda employs two fine jewellers who have added amazing experience and knowledge to the LUONE story.